Why did you start painting?
That's a question I have asked a lot of artists. None came up with satisfactory answers, not even satisfactory to themselves. I confess - same here.
If you ask any of us why we continue painting, that's a whole new ball game. For all of us, it's been an amazing journey; which never seems to slow down. And here's the kicker. The journey isn't so much about art; it's about the most interesting subject in the world, our own minds.
Why do you find something beautiful?
It could be a sunset. It could be a naked body. It could be a baby or a or a bird, a mountain or a galaxy or anything; as long as you find it beautiful. The reason may be elusive, but you can find it. After all, you're the one that decided the thing was beautiful. You are the only person in the universe who can say why. How's that for a challenge. The day you get a handle on the solution is when the problem really begins. Creativity demands that you improve upon that beauty. How, do you ask? That's the problem.
I know I can believe what I see.
Oh yeah? Prove it. Make a drawing of it. Our journey takes us back to infancy and Vision 101. We thought that we are using our eyes to see the world. This time we are going to learn to really see it, not just to approximate it.
Colors are part of this incredible journey. Everyone knows their favorite color. Or do they? Want to know your color? Open your closet. Ta-Da…….
Did you know that you had a blind spot right in the middle of your vision? Excellent Lessons In Watercolor Paintings I can prove it. It's amazing that people live their whole lives never knowing that they're missing the stuff in the middle.
This website offers a lot of practical advice. We start with simple things like brushwork, paint handling, color selection. We advance through very complicated stuff like color theory and composition. But this is all just technique which anyone can learn.
The goal of this website is to study your thought patterns through watercolor painting
What You Love
What You Fear
What You Want

What motivates you
Why make our journey using watercolor painting? Because I am your guide, and I am Captain Watercolor
In an alternate universe, it might be oil paint and I might be Captain Greasy Mess.
Examples of Great Things You Can do with
Watercolor painting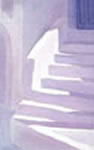 I chose this one to be first because it is so very simple. The composition is almost entirely rectilinear (Horizontal and vertical lines). It is relieved by two diagonals and an arc (top left). The artist is Linda Doll.
This devilishly simple seeming delight by Leslie Klaar speaks with just a few flat colors yet tells the whole story

What do you think about this little gem, by John Lovett. Its all about the center of interest. How many colors do you see? Even though it seems so colorful, there is only
yellow-orange and blue-green. The color harmony is critical here.

This reminds me of John Singer Sergeants work. Color is secondary to the values of this elegant composition by William H. Jones. Of course its a canal scene in Venice. Notice that the color scheme is the similar to the one above.

Thomas Freeman shows us how to push objects back into the distance. See how he expertly uses ever fainter and less contrast(y) washes to give us such impressive depth.

How about some color. It takes a magician to use every single color in one painting and not make a mess. This beauty by Wyatt Waters tingles with excitement. There is nothing here except some glass and some fruit, but boy, does it sing.

And if the above isn't enough color for you. consider this painting by Eleykaa Thaleh. Try looking the other way, (if you can).

This amazing painting by Alvaro Castagnet is a study in values, (The contrast between dark and light), The foreground has huge contrast, while the background has only lighter values.
Dennis Albetski painted this subtle work using the techniques of watercolor to their greatest advantage. There was a lot of wet in wet, and flicking going on here. Notice how the blue-green "pops" against the "red-orange" of the background. They are "complementary" colors.

I am a sucker for this sort of work by Jeanne Dobie. There is a marvelous intensity to her shapes. Notice that she put a "hole" in the middle. I think that's kind of cool.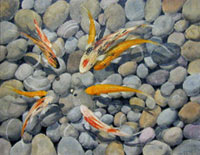 Here is another example of contrasts. There are only two colors in this painting, blue and orange, "complementary colors". Check out the composition. It's so "curvilinear". The stones are round, the fish are arcs, and the subject is a wheel of fish.
( Painting by Captain Watercolor )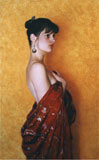 If you are going to paint this precisely, you better be good, because any flaw will stand out.
I like the contrast between the girl with the background.

Notice the "analogous" color scheme. Using only reds and oranges makes this a very "warm" painting.

I reproduced it so large to show the incredible detail. Paul W. McCormack

This is referred to as non-representational art. It is way harder than it looks.
Charlotte Huntley is a master at it because this accumulating of shapes and colors had to be created from nothing at all.



Watercolor on a textured surface. Thats pretty cool.