Birch Trees In The Snow. - A Scraping Watercolor Lesson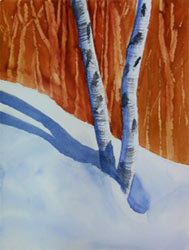 This lesson introduces the technique of scraping into watercolor paints. Its a nifty little trick that comes in handy quite often.
We will be mixing techniques; "wet in wet" with "drybrush" ( dry brush ) to generate this simple yet interesting painting.
The scene is a snow scene. A remembered view of a ski trail in Steamboat Springs, Colorado.
What i love here is the intense sunny-ness of the scene. It's sunny for two reasons. First reason is the crispness of the shadows. Second, far more subtle, is the color of the shadows, blue. I cover this effect in depth in my lesson on "Shadows In The Landscape".