Watercolor Painting Sunrise / Sunset Skies.
Part 2 The Water And Islands.

This is a lesson on how to watercolor paint skies at dawn and dusk, sunrise and sunset.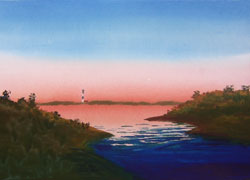 Dawn is special. To begin with, the colors are warm and cool; reddish orange and blue, and little else. The shadows are luxuriously dark, yet the lights are full bright. In painters terms: the values are intense.
Seascapes, or any waterscapes, at dawn, are usually serene. Later, the sun will warm the land faster than the water. Hot air will rise from the land, and onshore winds will rush in to replace it. These winds will whip up the surface of the water, and blow around beach grasses and plants. At dawn none of this differential heating has begun and the water is often like glass.
Dawn on the water is the epitome of peace. What's more, it's easy to paint.




PART 2 - The Land and Sea