Watercolor Painting Sunrise / Sunset Skies. Part 3 Lifting Out The Lighthouse.

This is a lesson on how to watercolor paint a lighthouse. First we lift the paint, then we paint in the base, catwalk and the actual light.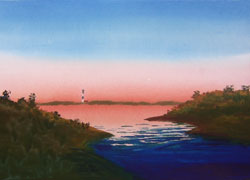 This is no ordinary lighthouse. This is my lighthouse: Fire Island Light. It's on the great South Bay, and so is my home. This channel, is modeled on Snake Hill Channel, a place were my family has picnicked and dug clams for half a century. My children and I feel at home there.
Navigation of Snake Hill, Channel can be a little tricky at low tide, but we know every inch of it. It is included in this painting in order to give darkness to the foreground. It is the intense darkness of the foreground which creates the "brightness" of the sky and it's reflection in the water. Cover the foreground with your hand and you will see how sterile the scene is without it.