Painting A Barn - A beginner watercolor landscape lesson.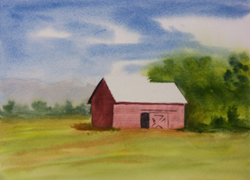 This lesson is a simple painting of a barn within its landscape. We will cover some wet in wet, some drybrush, and every sort of wash in between. We will also introduce an advanced concept, lost edges.
We begin with a very loose and easy sky. Then we define the horizon with trees and mountains. After that comes some trees which frame the barn and help to push it forward. After that its the barn itself with some huge contrasts. These big value changes definitely make it the obvious center of interest. Finally we paint in a loose and easy foreground with shadow which anchor the barn to its environment.
The colors are both warm and cool with warm predominating.
We will cover some wet in wet, some drybrush, and every sort of wash in between. Also introduced will be some elementary perspective. The compositional idea of masses, and the compositional idea of implied lines are also be introduced. Of course we will talk sky, meadow, trees and especially, light source and shadows