How To Paint A Tree Using Watercolor - The Fundamental Concepts.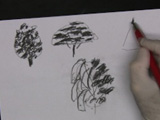 This is a lesson about painting trees. Trees are the backbone of landscape painting and as such beginners need to learn to paint them pretty well. This lesson discusses style of painting, color mixing and tree structure. You should definitely take this one first, and then the demo second.
In this demonstration you will come to understand the shape and structure of trees. Each has their own personality. Each has a unique branching style, and a unique shape of leaf clusters. The concept is really easy, and you will probably come away from this little lesson with a really good appreciation of trees in general.
From there, painting individual trees is a snap.