How to draw round objects
Three point perspective is really the basis for all linear perspective. How it translates to round objects is not obvious. This lesson explains it.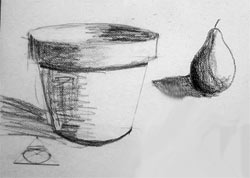 It assumes that you have taken the previous two lessons; one point, and three point perspective.
The lesson demonstrates that a circle looks like a circle only if viewed from the perpendicular to the circle. If you view it obliquely, it will be an ellipse. If you view it on edge, its going to be a straight line.
We look at how round objects appear in the real world. The example used is a flower pot viewed from just above the plain of the top. We study how the arcs and ellipses relate to one another using the principles of linear perspective. Its quite easy. Try it, you'll see.
Next we draw a pear. Making it round is a snap.

Drawing Lesson One -(Single) One Point Perspective

Drawing Lesson Two - Three Point Perspective

Drawing Lesson Three - How TO Draw Round Objects