Watercolor Lesson - Monoprinting - Texturing With Plastic Wrap.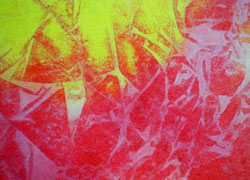 The concept of printing is that two surfaces come together to interact. In watercolor monoprinting, the paper surface you are working with is affected by another; a textured surface. The way it works in watercolor, is that you first paint a very wet picture. While the painting is still wet , you cover it with something different.
The outcome of monoprinting is controlled by the interaction of the paper and the printer. The finished product is predictable as to overall effect. On a smaller scale it is virtually unpredictable.
When you drop a crumpled sheet of plastic wrap onto your wet painting two wonderful things happen:
The flat areas of the plastic are granulated like mad.
The wrinkles leave all sorts of special effects.
This is something you want to try. You should try it several different ways with different colors.
A start, is a partially painted picture, which you then overpaint to create something unusual. I treat monoprints as starts. So do many other watercolor artists.